Virtual Tour Blog by Panedia
enjoy beautiful, high resolution, panoramic photography
Broken Hill is a small town on the Edge of the Australian Outback. 1200km (745 miles) west of Sydney & 500km (310 miles) north east of Adelaide, it's a very, very long way from anywhere. Broken Hill is also known as the 'Silver City' because of the vast amounts of silver extracted from the mines over the past 120 years, and being a mining town, many of it's road are named after chemicals. In fact the road we're standing on in the pano above is 'Chloride St', with Sulphide, Bromide & Oxide Streets running parallel to the main road.
At 5.43 am on the 30th of October 2006, I was standing in the silent wonder of the outback, on a hill 1200km west of Sydney, 400m/1300ft high & 6km out from the small town of Broken Hill. [pop. 21,000] Atop this hill lies the Broken Hill Sculpture Symposium, started on April Fools Day 1993, and finished in May of the same year. There are 12 pieces in the exhibit, with Bajo el Sol Jaguar (Under the Jaguar Sun) being the most striking (IMHO), and the one I've chosen to highlight in this pano. In order to get to the Sculptures you can either drive to a carpark / picnic area, followed by a 20min walk or get a key from (and pay a fee to) the Tourist Info centre so you can pass through 2 gates that allow you to drive to the top. Either way, it's well worth it.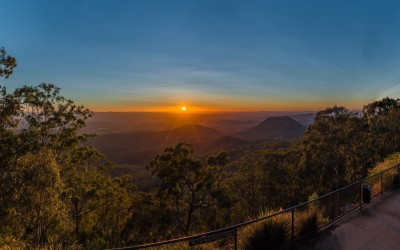 Toowoomba 'The Garden City', is a south-east Queensland city famous for its annual Carnival of Flowers, held in Spring. But Autumn is when it really shines in its full splendor. Situated on the edge of the Great Dividing Range, 700 metres above sea level and with lower Autumn and Winter temperatures than the surrounding area, Toowoomba benefits from a quite unique climate. All over the city there is a significant number of deciduous trees from around the world, giving a singular display of autumn yellow, orange and red among the green foliage. Being there at this season is a privilege and watching sunrise at Picnic Point, just on the edge of the Great Dividing Range, is as much astonishing as freezing.